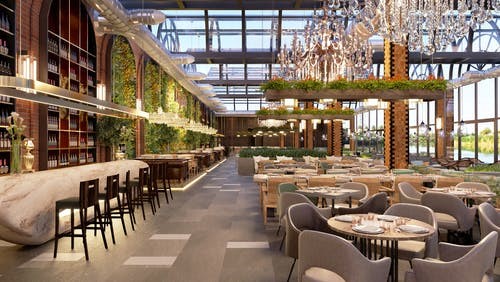 Why restaurant owners love Mid-Century Modern design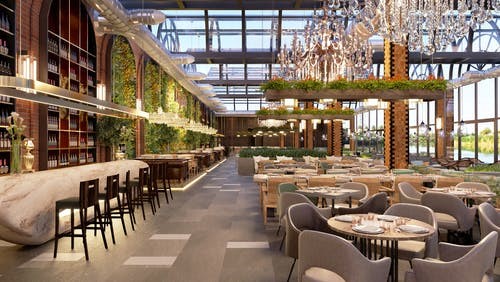 Whether you are looking to open a restaurant or remodel an existing one, you want to bring some of that livable sense of approachability to the space without sacrificing any of the beauty, style or personality.
If a restaurant has a very modern interior, it can seem too dull or dreary. On the flip side, however, having too much old fashion or vintage in your restaurant can also make it come across just as lifeless and bleak.
There is one pretty surefire way to get that perfect medium, warmth and liveliness into your restaurant: that is to go a little bit less modern, but not quite so old-fashioned either. By mixing some mid-century modern pieces into the design, modern or vintage interiors can stop being so stuffy, and start feeling like fun again.
While modern furniture is characterized more by colder materials such as metals and glass, mid-century modern style generally displays more colors and warmer materials such as wood.
The right mixture seems to satisfy current consumer cravings for authentic, simple and unfussy environments while still providing a shot of luxe comfort.
As leading architectural critic Paul Goldberger stated during his lecture at "Design Icon Award" about mid-century modern style, "Modern design, a new world, but one that managed here not to connote austerity, but a cool, reserved, self-assured grandeur…After all, modern design in general meant stripped down, plain and cold, to most people. Mid-Century Modern emerged out of an entirely opposite view of modernism, the notion that modernism could, in fact, deal in emotion: it could seek to impress, even to awe, and that there were ways to do that that were different from retreating into, say, fake French chateau. This restaurant, (speaking of title-winning Four Seasons Restaurant) like the building, is lush, but it is not vulgar."
The critic also spoke of several other five start restaurants having the same mid-century modern design stating that, "the characteristic style has an aesthetics synonymous with sophistication, luxury and grace", and that "the [mid-century modern] design provides the open, outdoor atmosphere to get into the inside."
A STYLE THAT NEVER DIES
In 1984, Cara Greenberg coined the phrase "mid-century modern" as the title of her book when the style became popular.
Nearly four decades later, mid-century modern remains the rage. If anything, it's even more popular.
It seems to be like camouflage, or skinny jeans: It's been the "new cool thing" ten times in the last 50 years.
Even if you dine in a contemporary restaurant tonight, there's a good chance you'll be seated in a chair that was designed in the 1950s—whether it is an Eames, Bertoia, Cherner, or Saarinen.
The best of mid-century modern design is undeniably beautiful and functional. With subtle curves, clean lines and use of non-traditional material, the style is understated and unfussy, therefore making the still- popular choice among those with a minimal aesthetic.
CRAIG BAYENS FURNITURE
If you are a restaurant owner, you want to have a popular, comfortable style, but also want to be unique.
That is where local furniture build shop, C. Bayens Furniture, comes into play.
Based out of Louisville, KY, shop owner Craig Bayens makes custom, hand-made contemporary and mid-century style furniture.
Bayens, "the resident furniture maker for the Ole Restaurant Group", helped custom design several local restaurants such as The Galt House Hotel, The River House Restaurant And Raw Bar, and Walker's Exchange amongst other favorites.
But his work is by no means a copy-cat version of other restaurants. His own unique design and detail go into each functional furniture piece he makes, while staying true to the minimalist features.
He is also is one of the founders of Louisville Area Furniture Society, or LAFS, an "organization of dedicated designers and professional furniture makers".
While Bayens has mainly done work in the local Louisville area, he is currently looking to expand into other parts of the US.
So, if you are a restaurant owner and happen to be located in completely opposite points of the country such as New York or Chicago and are in need of beautiful, custom design, you can make an appointment with Craig Bayens at C. Bayens Furniture today and he will be glad to help you no matter the size of your project.
You can click here to make an appointment now. You can also get in contact with him on Facebook, Instagram, or Twitter and see some more examples of his fine work.